Victoria Anderson is a comic book
character
of the
Marvel Comics
Universe
that first appeared in Avengers Icons: The Vision #2
Publication information
First appearance:
 Avengers Icons: The Vision #2 (November,
2002
)
Created by: 
In-story information
Alter ego: Victoria Anderson 
Phonetic: vɪktɔ́riə ǽndərsən
Translation:
Notable aliases: 
Affiliations: Vision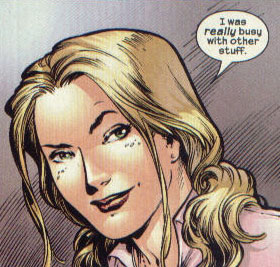 Team affiliations:
Enemies: Kondrati Topolov
Abilities:

Status
Identity Secret: Public
Race: Human
Citizenship: American
Marital Status: Single
Occupation: 
History
Victoria Anderson is the granddaughter of the
Human Torch
inventor
Professor Phineas T. Horton
. Victoria is normal human, but she wears solar gem, that has its own artificial intelligence which can absorb and release solar energy. The gem produced a holographic image of Vision for her to consult with.
Paraphernalia
Equipment
Transportation