Publication information
First appearance:
 Adventure Comics #47 (February,
1940
)
Last appearance:
Sandman Mystery Theatre #70 (February,
1999
)
Created by: Gardner Fox, Ogden Whitney
In-story information
Alter ego: Lawrence Belmont
Phonetic: lɛ́ri bɛ́lmànt
Translation:
Notable aliases: 
Affiliations: 
Team affiliations:
Enemies: 
Abilities: 
Base Of Operations:
Manhattan
, New York City of the 1930s-40s
Status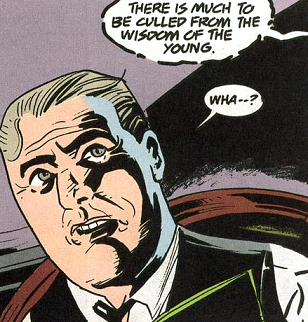 Alignment:
 Good
Identity Secret: Public
Race:
Citizenship: American
Marital Status: Widowed
Occupation: Former prosecutor; former district attorney
Place of birth: unknown (presumably New York City)
Place of death:
unknown. The final fate of Larry Belmont has never been revealed. Considering that he was of middle age during the early 1940s, it is reasonable to assume that he has since passed on of natural causes.
History
Larry Belmont was a prominent District Attorney serving New York City during the Prohibition era of the 1930s. During his time in office, he concentrated a great deal of effort towards compiling information against racketeers and bootleggers – a career that placed himself and his daughter, Dian, at great peril on several occasions. In 1938, Larry became involved in a case involving the kidnapping of Dian's socialite friend, Catherine van der Meer. Belmont worked alongside his close colleagues Judge Thomas Schaffer and police commissioner Irving Davis in compiling evidence against the mysterious abductor – a foe who called himself the Tarantula. Belmont possessed critical information linking the Tarantula attacks to the prominent Goldman family – an allegedly reformed family of bootleggers. During the time, Larry met the strange mystery man known as the Sandman.
Powers and Abilities
Powers
Abilities
Litigation: Lawrence Belmont was an accomplished lawyer and district attorney.
Strength level
Below Average: Lawrence Belmont possessed the strength level of a middle-aged man his size and weight who engaged in minimal regular exercise.
Weaknesses