Publication information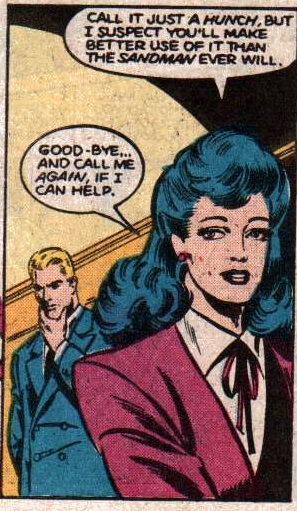 Publisher
:
DC Comics
First appearance:
 Adventure Comics #47 (February,
1940
)
Appearance of Death:
JSA Secret Files and Origins #1 (August,
1999
)
Created by: Gardner Fox
In-story information
Alter ego: Dian Belmont
Phonetic: dájən bɛ́lmànt
Translation:
Relatives:
Larry Belmont
(father, deceased); an unnamed sister (presumably deceased); Hawkins (brother-in-law, presumably deceased); Sanderson Hawkins (nephew); Agatha (aunt)
Affiliations: Wesley Dodds (Sandman), Jack Knight
Team affiliations: One-time honorary member of the Justice Society of America

Enemies: 
Abilities: 
Base Of Operations: New York City
Status
Alignment: Good
Identity Secret: Public
Race:
Citizenship: American
Occupation: Socialite; writer
Place of Birth: New York City
Place of Death:
New York City
History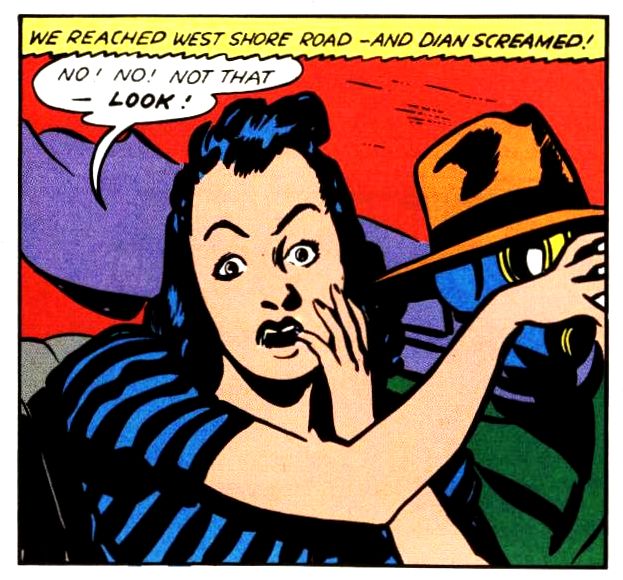 Dian Belmont was the lifelong companion of Sandman, Wesley Dodds. Originally a flighty socialite girl, Dian's encounter with Dodds inspired her to join his fight against crime.
She was responsible for designing the purple and yellow costume that Dodds wore during his tenure as a member of the All-Star Squadron. Fellow All-Star Jonathan Law, the Tarantula, was so impressed by the outfit, that he later refashioned his own costume based on Dian's designs (Originally Law changed his costume out of respect for Dian's memory, when he had erroneously believed that she had been killed in an automobile explosion).
In her twilight years, Dian became an award winning crime novelist and passed away from natural causes.
Powers and Abilities
Powers
Abilities
Dian was skilled in the ways of social etiquette and was a Pulitzer prize-winning mystery writer. In her youth, Dian also fancied herself as an amateur detective.
Strength level
In her prime, Dian possessed the strength level of a woman her age, size and weight who engaged in moderate regular exercise.
Weaknesses